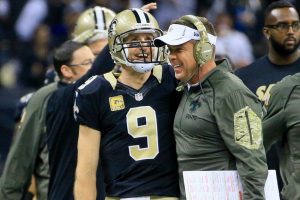 Sean Payton has done his best Head Coaching Job in his career for the 2019 New Orleans Saints. Drew Brees suffered a thumb injury in Week 2 of the 2019 NFL Season on the road against the Los Angeles Rams in a lost. Teddy Bridgewater has done a good work at QB on this 5-game winning streak already now. Experts said that they where in trouble without Drew Brees at QB. Teddy Bridgewater wasn't going to take this squad on this 5-game winning streak. Experts where wrong on that one. Teddy has done a fantastic job at QB for Head Coach Sean Payton in 2019. Players have good support in Teddy Bridgewater running the Offense for the New Orleans Saints. That started in the Seattle Seahawks game in Week 3 on the road. In a tough hostile environment in Seattle. Loud stadium to play in the NFL. Teddy handle that one very well in a 33-27 victory on the road in Seattle. It was rainy out there as well too in Seattle. Brutal place to play period. Defense has done very well too. Dennis Allen doing a good job as Defensive Coordinator in that department. Getting a road victory against the Chicago Bears at Solders Field in Chicago on Sunday 36-25 in a cold day on the South Side. New Orleans is 6-1 on the season in the NFC South Division. 1st Place in that Division right now. Sean Payton should be a candidate for the 2019 NFL Coach of the Year Award. What he has done for the New Orleans Saints in 2019. Players believe in one another & trusted one another to get this job done for the injured Drew Brees at QB. Drew has been a good spectator on the bench & watching the team go along ways now. Sean Payton is a good Head Coach in the NFL.
Doing A Great Job As Head Coach Of The 2019 New Orleans Saints Football Team In 2019. Glad To Have Sean Payton As Head Coach In New Orleans.
Go New Orleans Saints Head Coach Sean Payton….