George Pickens played on the 2021-22 College 🏈 Playoff National Championship Team for the Georgia Bulldogs in Athens. Love playing for Head Coach Kirby Smart in his time being there. WR on Offense for DAWGS 🏈 Team. Made a nice diving catch against the Alabama Crimson Tide on January 10th at Lucas Oil Stadium in Indianapolis in a 32-18 win. Get revenge from that lost on December 4th, 2021 in the SEC Conference 🏈 Championship Game at Mercedes-Benz Stadium in Atlanta.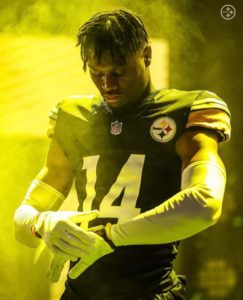 Got Drafted by the Pittsburgh Steelers 🏈 Team in the 2022 NFL Draft. Head Coach Mike Tomlin got another playmaker for the Steelers Offense & another WR. Help out QB Mitch Turbinsky or Kenny Pickett in the upcoming years ahead of time now. Be part of a very good organization in the NFL right now. Top 3 ownerships in the NFL right now in Pittsburgh.
HERE WE GO STEELERS HERE WE GO
HERE WE GO STEELERS HERE WE GO
HERE WE GO STEELERS HERE WE GO
GO DAWGS & GO STEELERS 🏈 TEAM WR GEORGE PICKENS…… HE WILL TRANSLATE FROM COLLEGE 2 PRO NOW……..