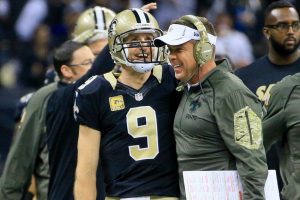 My 3 NFL Coach Of The Year Award Candidates In 2019 Are Right Now.
Kyle Shanahan for the 2019 San Francisco 49ers Football Team. Had 2 losing seasons in his 1st 2 years as Head Coach. 2019 things have change. Jimmy Garoppolo back from his injury he suffered a year ago. He is healthy now at QB. Off to a 7-0 start of the 2019 season. Getting a good Draft choice in the 2019 NFL Draft in April in Nashville, TN. DE Nick Bosa is a good help in the pass rushing department they needed really bad. That has paved the way to have a Top 5 Defense in the NFL now. Robert Saleh doing a very good job as Defensive Coordinator with the 49ers as well too. Kyle Shanahan is finding ways to have a good squad in 2019 for the San Francisco 49ers. Levi's Stadium in Santa Clara is got there bleachers full now. Good Football Team Right Now.
Sean Payton what he has done for the New Orleans Saints in 2019. Drew Brees went out with a Thumb Injury in Week 2 of the season on the road against the Los Angeles Rams in a losing effort. Teddy Bridgewater replaced the injured Drew Brees in the next 5 games. Went 5-0 during that time being. Getting a road victory on a raining day in Seattle. Teddy handled the pressure very well in a loud tough hostile environment in Seattle in Week 3 of the 2019 NFL Season & getting a victory on the road. Kept on going for it for more to come. Home victory against the Dallas Cowboys on Sunday Night Football at The Mercedes-Benz Superdome in New Orleans, LA in the next week. Drew Brees came back last week at home against the Arizona Cardinals in a 31-9 victory. Defense has come along very nicely too. New Orleans is 7-1 on the season.
Matt LaFleur Green Bay Packers Football Team has come out of nowhere in 2019. Everyone expected them to finish last in the NFC North Division in 2019. Experts where wrong about that one. There 7-1 on the season too. Aaron Rodgers has done very well at QB again for 1st Year Head Coach Matt LaFleur. Aaron Jones has come along ways to be a good RB for the Packers. Getting good wins against Detroit, Dallas, Kansas City, Minnesota, Chicago, Denver, & Oakland. Lose at home to the Philadelphia Eagles on Thursday Night Football. Defense has been much better & the team & culture itself has change as well too. Green Bay Packers has been my surprise team I didn't think of going into the 2019 NFL season. Now I have figure that one anyways.
Those are my 3 NFL Coach of the Year Award Candidates in 2019 right now. Things will change down the road during the season comes along.