Woody Hayes was the Greatest Ohio State Buckeyes & B1G Conference Football Head Coach ever in Columbus. Won 6 National Championship Titles in that time span. Better Head Coach then Bo Schembechler ever was. Bo learn that stuff from Woody in his days in Columbus. Woody was 3-6-1 against Bo. Taught Bo good stuff. Heck of a career for the Michigan Wolverines Football Team in Ann Arbor in 1969-89. 1968 National Champions. But the 1969 squad was better then the 1968 squad. Got upset by the Michigan Wolverines in 1969 at The Big House in Ann Arbor. Heisman Trophy Winner at RB Archie Griffin in 1973 & 1974.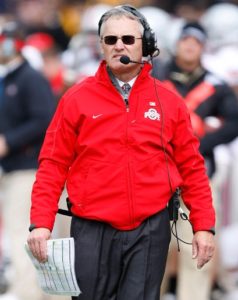 Jim Tressel had a good run for himself as Head Coach for the Ohio State Buckeyes Football Team in 2001-10 in Columbus. 9-1 against the Michigan Wolverines. He had the better Defensive Head Coaches then Urban Meyer & Ryan Day did in the past years. Top 10 Defense's during that 10-year run for the Scarlet & Gray. 2002 National Champions. True Freshman RB Maurice Clarett. Upset the Miami Hurricanes in 2 OT in Tempe, AZ 31-24. Defense Dominated That Contest. Got after Ken Dorsey all game long. Mark Dantonio & Jim Heacock as his DC's during that time being. Ran a good style.
Urban Meyer had really good Offensive Coaches & Offensive Genius in all of College Football in 2012-18 in Columbus. Top 5 Offense's in the nation when he was Head Coach for the Scarlet & Gray. Recruited really good Offensive & Defensive Players & translate that one to the NFL. Won the 2014 National Championship Title in the 1st Annual College Football Playoff. Best Head Coaching Job of his career in 2014. Good Offensive Minded Head Coach in all of College Football.
Ryan Day kept that trend going when Urban Meyer left after the season was over in 2018. Did a heck of a job as Interim Head Coach in the 3 games for the Scarlet & Gray. Urban Meyer had to serve a suspension with the Zach Smith incident happen in Gainesville in 2009. Ryan went 3-0 as Interim Head Coach. Ready for that position in 2019. Done a really good job ever since Urban left. Kept that trend in excellent shape. 3 of 4 with 10+plus wins in a season. Took them to the 2020 College Football Playoff National Championship Game on January 11th, 2021 at Hard Rock Stadium in Miami Gardens, FL. Lose to the Alabama Crimson Tide 52-24. Back 2 Back 11-2 seasons. 1-2 against the Michigan Wolverines. Including the Back 2 Back losses to them. Good Recruiting Classes in the last 4 years in Columbus. CJ Stroud will be a Top 5 NFL Draft Pick in 2023.  Learn that stuff from Chip Kelly & Urban Meyer. 2 Offensive Minded Head Coaches in all of College Football got his information from……. Helping out Ryan to succeed as a College Football Head Coach……..
These 4 Ohio State Buckeyes Football Team Head Coaches ran different styles in the past & present years. Did a good job with that department. Good tradition in store now on a year in & year out basis. Player development they do very well. Love there Football in the State of Ohio. Be in the mixed once again in 2023. 4 Legendary Head Coaches for the Scarlet & Gray.
GO OHIO STATE BUCKEYES FOOTBALL TEAM EVERYONE…………